If you look back at the last decade of NBA basketball, you will find that only 4 players not named Jamal Crawford or Lou Williams have won the Sixth Man of the Year award. In that same span, the only sixth man award winner that wasn't a guard was Lamar Odom in 2011. Usually this award is a runaway for a player with a clear sixth man role, something Sweet Lou and J Crossover have built careers off of. The importance of a primary scorer and play-maker off the bench is gaining value, and this season could be the most competitive yet for the sixth man award.
NBA history is full of sixth men that have been crucial to their team's success. In the Lakers 2009 championship campaign Lamar Odom was third in scoring for LA (12.3) while only starting 5 out of 23 games. In 2014 Manu Ginobili came off the bench for all 23 postseason games for the Spurs, scoring 14.3 points per game; the exact amount that Finals MVP Kawhi Leonard contributed. Andre Iguodala won the Finals MVP award in 2015 while starting only 3 of the 6 games played, the only starts he would have all of the regular season and playoffs combined.
These are great examples of how a strong bench leader can help their team win big games. Having a Manu or an Iggy can be the difference makers against top heavy teams with thin benches or exhausted stars that play heavy minutes. They can be the difference makers, and teams will need everything they can get to make a championship push.
Now let's take a look at some players so far in the 2019-2020 season that are making an impact for their teams:
Lou Williams and Montrezl Harrell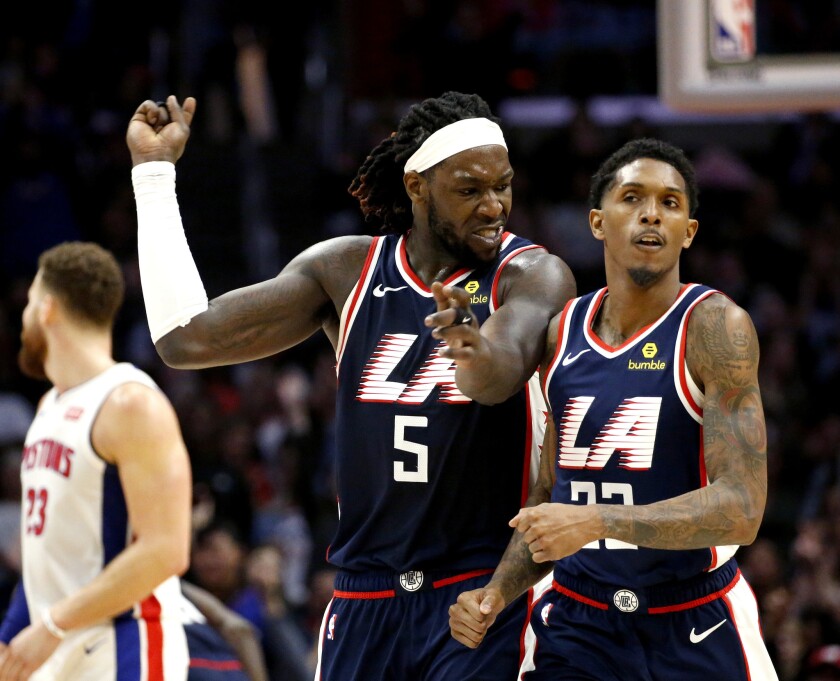 These two are givens. They torched the league last season off the bench for the Clippers and competed against each other for the Sixth Man of the Year award. They currently lead all bench players in the NBA with 22.3 and 19.8 points per game respectively. With the addition of Finals MVP Kawhi Leonard and All-Star Paul George in the off-season, defenses will have no break with all four of these players willing and able to drop 20+ on any given night.
Derrick Rose
Rose continues to be an inspiration to the basketball community after an almost career ending injury derailed him following a campaign that led him to be the youngest MVP in NBA history. He has reinvented himself from an explosive starting guard to a crafty veteran off the bench. He received praise for his role last season with the Minnesota Timberwolves where he dropped an emotional 50 points in his resurgence back into the league. He joined Detroit in free agency with a vision that he could impact and lead that team to the playoffs. So far he is delivering on that promise. Unfortunately out with injury again, through 7 games with only one start he has dropped 18.7 points and 6.1 assists on 52% shooting.
Goran Dragic
Dragic is another guard that has been struggling with injuries in recent years. He is embracing a new role coming off the bench for Miami and by doing so has helped the Heat to a great 7-3 start. Dragic captaining the bench has allowed phenom undrafted rookie Kendrick Nunn to shine and grow, and Dragic has been able to lead one of the leagues best benches in production. So far he has contributed 16.8 points and 4.9 assists while shooting  44% from three.
Dwight Howard
It is somewhat sad that we NBA fans have forgotten how dominant of a player D12 was when he began his career in Orlando. Since the blockbuster trade that first landed him in LA back in 2012, he has faded out of the spotlight and into the shadows. He rejoined the Lakers just before this season to fill the spot left by an injured Demarcus Cousins. While not filling the stat sheet like he used to as a starter, he has been a crucial piece to this dominant Lakers team that at the time of this writing is second in defensive rating and behind the Utah Jazz by only .1. (November 14th update has them back on top). His 94 defensive rating matches his career high for a season if he can maintain it, and his 1.6 blocks per game in only 20 minutes of playing time is incredible.
Devonte' Graham
Charlotte's off-season can be best summed up with losing Kemba in free agency and replacing him with a less than impressive Terry Rozier. They look set to miss the playoffs for the fourth consecutive season. However, a bright spot can be found in Sophomore point guard Devonte' Graham who is having a Most Improved Player worthy season. Through 10 games he is averaging 17.9 points, 7.6 assists, and 42% from three, including a career high 35 point outing against the Indiana Pacers on November 5. While this kind of improvement will definitely land him a starting spot further down the road, he is thriving as the Hornet's sixth man.
Other key sixth men include Dennis Schröder, Spencer Dinwiddie, Brandon Clarke and Serge Ibaka. The latter, along with Fred VanVleet, had some big moments to help clinch the championship for the Toronto Raptors just a short season ago. We will see many great bench players in the years to come, and there is no shame to contributing to your team in this way. As teams and players come to terms with these types of roles they will find great success.
Featured Image Sources: Ringo H.W. Chiu / Associated Press, Detroit News, NBA.com, ftw.usatoday, Charlotte Observer
For advertising and sponsorship opportunities with The Game Changer Sports Network please contact Jake at Info@GameChangerSportsNetwork.com