We are just a little under two weeks away from the NFL Draft. Most teams have made their final moves before going into the draft and filling their needs from there, then searching through what's left whether it be undrafted free agents, or veterans who didn't get a deal previously in the off-season. Here is the grade of each NFL team and what they should be doing to further improve or maintain their status!
Arizona Cardinals : D
The Cardinals started their off-season a lot quicker than most teams. Within the first couple of days after the regular season they fired head coach Steve Wilks after just one season and made a hire that would start a trend around the league. Former Texas Tech head coach Kliff Kingsbury was named the head coach of the Arizona Cardinals and they have rebuilt this staff from the ground up. A former associate of Rams head coach Sean McVay, Kingsbury was about to take an offensive coordinator job at USC with the Trojans, but quickly redacted and signed a contract with the Cardinals.
As far as transactions go, this team has made some alright signings. They began by bringing in pass rusher Terrell Suggs from Baltimore and signing WR Larry Fitzgerald to an extension after a possibility that he was going to retire. Their highlights also include bringing in WR Kevin White from the Bears and inside linebacker Jordan Hicks from the Eagles.
Their transactions aren't the reason their grade is so low. Josh Rosen is the reason their grade is so low. The Cardinals staff and media have all but trashed any bit of what the former first round QB had coming out of last season where, to be brutally honest, he didn't play very well. Kingsbury has said that if he was a head coach and had the number one overall pick, he would certainly draft Heisman winner Kyler Murray out of Oklahoma. Now he has that VERY opportunity. At first he began with saying "Josh Rosen has the keys to our castle", and now he is actively looking at trade suitors (New York Giants, Los Angeles Chargers, New England Patriots are all rumored targets) to ship off the young quarterback! The Cardinals have done a good amount of harm to Rosen as well as the team with the sudden shakeups in coaching staff and rumors flying left and right. Oh, might I add coach Kingsbury has also said he will be allowing "Cell phone breaks" during team meetings this season. If this doesn't scream a disaster waiting to happen, I don't know what does.
San Francisco 49ers : B
Not too much to be bitter about with the 49ers moves this off-season. They have addressed great needs on the defensive side of the ball by getting Kwon Alexander and Dee Ford as well as Jason Verrett for the secondary. Offensively they brought in RB Tevin Coleman to further build their stable of RB's with Jerrick McKinnon coming back finally healthy and Matt Breida as well as getting some receiver depth with Jordan Matthews who hopes to finally stay healthy and prove his worth. They missed out on the Odell Beckham Jr sweepstakes, but with a deep wide receiver class, I don't think they will suffer too bad.
Nothing too fancy with the Niners this off-season so far after a disappointing season with their franchise QB Jimmy Garoppolo tearing his ACL early on against the Kansas City Chiefs. They just look to prepare for his return and see what the ceiling of this 49ers team really is.
New York Jets : A-
The New York Jets have made some great moves so far this off-season. Building a team around QB Sam Darnold seemed to be the goal during the free agency period, and signing former Steelers RB Le'veon Bell should do just the trick for them. They also brought in WR Jamison Crowder from the Washington Redskins and traded for former Raiders offensive lineman Kelechi Osemele in exchange for a fifth and a sixth round draft selection in the 2019 NFL Draft.
Defensively they've also made solid moves signing former Ravens MLB C.J. Mosely and bringing back DE Henry Anderson as well as building solid depth in the secondary. This defense should be able to hold offenses in check in a big way and this team, if head coach Adam Gase can bring everything he's got, could potentially be a wild card contender.
With the draft they are in a great spot with the number three overall pick and this is one of the best defensive drafts in NFL history and I think they should definitely look at expanding the LB core and get that edge rusher that they could use right about now. Josh Allen anybody?
Oakland Raiders : B+
The Oakland Raiders seemed absolutely foolish at the beginning of the 2018 season when they traded DE Khalil Mack instead of giving him the extension he wanted. Coach Gruden said it was all a part of the rebuild and to relax and trust the process. Now he gives the Raiders a sign of life in the off-season signing BIG names to add to a roster that once was viewed as a laughing stock to the rest of the NFL.
Of course the major headline of the Raiders free agency period is trading for superstar WR Antonio Brown for just a third and fifth round pick in the 2019 NFL draft. This gives Derek Carr a new weapon since trading away Amari Cooper to the Dallas cowboys for one of their THREE first round picks this year. They also bought Carr some protection in bringing in former Patriots OT Trent Brown who proved to be a gigantic part in keeping QB Tom Brady on his feet and getting the Patriots to a sixth Super Bowl championship last year.
Defensively they have made moves such as bringing in FS Lamarcus Joyner from the Rams on a four year deal and recently released LB Vontaze Burfict from the Cincinatti Bengals (let me remind you of that time that he concussed Antonio Brown on a key play in a playoff game back in 2016). As well as bringing in another veteran presence to the LB core in former Bronco Brandon Marshall.
With three first round draft selections, the Raiders are in a good place to build a nice young core on the defense with players like Devin White, Devin Bush and Quinnen Williams all expected to be around at that part of the draft. This could be a fun project for the Oakland Raiders and may prove the doubters wrong in the end.
Tampa Bay Buccaneers : D-
Let me start by saying this, the Bruce Arians hire was genius. Dirk Koetter just wasn't working out in Tampa and they needed a new look on the coaching staff. After taking a year off from coaching football with the Cardinals, Arians has signed a deal to be the new coach of the Buccaneers. He should be able to provide QB Jameis Winston with a fair last chance scenario and with how he resurrected the career of former Cardinals QB Carson Palmer before retirement, he could very well do the same with Winston.
As far as roster moves go, the Buccaneers have been virtually non existent. The biggest move that they've made was trading WR Desean Jackson back to Philadelphia for a sixth round draft selection this year and a seventh next year. The biggest additions that they have made is bringing in OLB Shaquiel Barrett and ILB Deone Bucannon. The Bucs just weren't very strong on the free agency market and that is a big concern for a rebuilding team with more than their fair share of needs.
New York Giants : D
The Giants shook the entire landscape of the NFL after trading away superstar WR Odell Beckham Jr and DE Oliver Vernon to the Cleveland Browns. This was met with harsh, but fair, criticism from the sports world as Beckham was considered the best player on the entire team for a good amount of seasons and bailing the Giants out of so many tough situations. Though GM Dave Gettleman made the call to ship him off to Cleveland for S Jabrill Peppers, OG Kevin Zeitler, a first round pick and a third round pick in return.
They chose to fill in the sudden hole at WR with veteran Golden Tate from Detroit by offering him a four year $37.5 million dollar deal. Outside of this, the Giants have been extremely quiet. They let one of their best if not the best defensive player on their team walk in Landon Collins, and chose to fill in that role with veteran S Antoine Bethea from Arizona. The Giants to be frank, have been confusing this free agency period and haven't seemed to improve on much of anywhere outside of the offensive line. With QB Eli Manning aging and two first round picks, you would have to think that they go with a QB with one of them, but the Giants have proven to be so unpredictable that they may just go another year with passing on a quarterback. Although, they have been linked to be possible trade suitors with Arizona's Josh Rosen.
Jacksonville Jaguars : C+
The Jaguars definitely disappointed last season after being such a dominant force in 2017 making it to the AFC Championship. Their offense just never got it together and they needed a new look. Former Super Bowl MVP Nick Foles could be exactly what they are looking for as their new QB in 2019. After signing a four year $88 million dollar deal, he may give Jacksonville the consistent QB they just never got out of Blake Bortles during his tenure as a Jaguar.
Their other transactions include former Green Bay Packers MLB Jake Ryan, former Kansas City Chiefs WR Chris Conley and resigning OG AJ Cann on a three year deal. Also something that could be problematic, RB Leonard Fournette has run into some off the field issues recently as he got arrested. After a rough season last year, this isn't what Jaguar fans want to see. Not the splashiest moves which is why they only get a C+. With a strong draft though, the grade could rise immensely and they could look at another AFC South division title run.
Detroit Lions : B+
The Detroit Lions had a roller-coaster of a September last season getting blown out by the New York Jets to usher in head coach Matt Patricia's debut, then beating his former team in the New England Patriots week three 24-10. Unfortunately for them, they didn't do enough to make a push for the playoffs. Though it wasn't a surprise to most as Detroit just didn't have the pieces to make that kind of a run.
They sure did make some moves this off-season though. The biggest of them all being signing DE Trey Flowers off of the Patriots for five years on a deal worth $90 million dollars. They followed those deals up with signing CB Justin Coleman from the Seattle Seahawks and getting another former Patriot in WR Danny Amendola. TE Jesse James from the Steelers also gives Stafford another option to throw to as their passing offense looks to get going fast next season with Matthew Stafford still at the helm.
If you're a Lions fan, there's alot of things to be happy with here. They've improved in all major areas of need and the draft should provide them with some top end talent at pick number six. Possibly to build up the linebacker core that could use a field general to hold down the middle!
Buffalo Bills : C-
The Buffalo Bills did not improve last season after making the playoffs for the first time in the new millennium the season before. They traded away Tyrod Taylor and drafted QB Josh Allen who was still considered raw as a talent, and although showed signs of potential, lacked the supporting cast to lead the team back to the promise land.
This off-season they looked to change that. The Bills signed WRs Cole Beasley from Dallas and John Brown off the Ravens. They've both proved to be solid second or third options on their teams in the past, but never the number one option. The Bills haven't had that reliable target in years and could very well look for a trade after the Antonio Brown deal fell through or look to the draft with WRs like D.K. Metcalf and AJ Brown.
Buffalo gets a C- from me just because they didn't do much of anything this off-season. Though they didn't lose anything major, they didn't gain much either. Much like a lot of these teams though, a good draft could significantly impact that grade.
Denver Broncos : B-
The Broncos decided one year of the Case Keenum experience was enough and they made the move to ship the former Minnesota Viking QB to the Redskins for a 7th round pick. They followed it up by trading for Super Bowl 37 MVP Joe Flacco from the Baltimore Ravens to replace Keenum. They then signed RT Ja'whun James to a four year deal to hopefully provide protection for their new QB. They hope WR Cortland Sutton and RBs Phillip Lindsay and Royce Freeman can continue their development and hopefully build a offensive core that could bring them back to the post-season.
Defensively they haven't made any big splashes, although CB Bryce Callahan from the Chicago Bears should provide them a solid player to put alongside Chris Harris Jr who is on a contract season and his pushing for his new deal to be done as soon as possible. They also brought in safety Kareem Jackson on a two year deal to hopefully replenish this secondary even further.
No gigantic moves to report out of Denver. Which is why they're at a B-. The moves they made are improvements and could make a positive impact on the team next season. They are though in what could be the toughest division in football with Kansas City and Los Angeles still just as strong as they were last season. It is still though, a step in the right direction.
Cincinnati Bengals : D+
The Bengals were a member of the trend of signing former Sean McVay associates. Former Rams QB coach Zac Taylor was the man picked to replace Marvin Lewis after going close to two decades with the job and no playoff victory. Taylor looks to make the best of a roster that lacks a lot of star-power in most places and are running on the backs of aging veterans like A.J. Green and Geno Atkins.
To add to the roster, the Bengals only made one major move in signing MLB Preston Brown from the Buffalo Bills to a three year deal. Outside of that they've been dead silent. That's why they have a low grade. Though they did get rid of Vontaze Burfict to hopefully bring a culture change to that Cincinnati defense. A QB to bring competition to Andy Dalton should definitely be in the top priorities of the Bengals front office as Dalton just hasn't shown any real explosiveness since coming in. With the 11th pick, don't be shocked if they take one of the top QBs available.
Green Bay Packers : B-
With the firing of Mike McCarthy before the season ended, the Packers were guaranteed to go under some retooling this off-season. Their new head coach is Matt LeFluer, another Sean McVay associate as he was formerly the offensive coordinator in Los Angeles. An offensive mind to possibly challenge Aaron Rodgers could be great for this Packers offense and might lead to a more organized way of playing.
As far as new additions they really bolstered their defensive picking up S Adrian Amos from the Bears and LBs Preston Smith and Za'Darius Smith. Unfortunately for Rodgers the Packers weren't able to add any veteran receivers. They actually lost one of the last familiar faces to the offense in Randall Cobb to the Cowboys. Though things seem to be looking up for Green Bay, there is still some room to improve. So I'll give them a B- with upside for a pre-draft grade.
Miami Dolphins : C
The Dolphins kicked off the free agency period by signing former Patriots linebackers coach Brian Flores to be their head coach off of a Super Bowl 53 victory where the Rams offense were held to just three points all game by a Patriots defense that had otherwise struggled all season long.
The Dolphins were expected to move on from QB Ryan Tannehill coming into the off-season and indeed they did trading him to the Tennessee Titans for a sixth round draft selection. They replaced him with Ryan Fitzpatrick from the Tampa Bay Buccaneers who showed flashes of being a solid starter in this league. They also resigned WR Devante Parker and traded away DE Robert Quinn to Dallas after losing Cameron Wake. They haven't made any crazy moves outside of those listed so they get a C. Though a good draft could raise it quick.
Atlanta Falcons : C
The Falcons weren't a bad team last year, they had simply just suffered too many injuries to be competitive with the likes of New Orleans. Now with a fully healthy squad, they look like a team that could bring an NFC South title back to Atlanta.
The only major loss was RB Tevin Coleman, who played a big role last season when Devante Freeman went down early on with an injury. Other than that they just look to retool and get back on track. They didn't make any big signings either so this team is virtually the same as last year, which is why they get a C. They are in a prime position though to bring some young fire power to the defense that was a huge issue last season.
Washington Redskins : C-
The Redskins have definitely made some solid improvements. Former Giants safety Landon Collins will be a big help in reviving their defense. Their QB depth chart still isn't the greatest though. With Alex Smith likely to miss most of the year, they traded for Broncos QB Case Keenum. Also bringing back RB Adrian Peterson who had a revival of sorts last season being one of the top rated backs in the NFL last year. Still a lot of work to do which is why they get a C-.
Carolina Panthers : C
Nothing major to report in Carolina. They've lost more than they have gained through the free agency period, including veteran LB Thomas Davis being released early on in the process. With recently signing Chris Hogan being their biggest move, they definitely still have room to improve. They still aren't a bad team though, which gives them a C in my books.
Cleveland Browns : A
Wait, you're telling me that they added WR Odell Beckham Jr to an offense already featuring talents like Jarvis Landry, David Njoku, Nick Chubb and Kareem Hunt? Let's also not forget about QB Baker Mayfield who already looks like a soon to be star in the NFL. Overall the Browns look like top contenders for the AFC North and haven't lost a great deal of players this off-season. Kevin Zietler and Jabrill Peppers along with Emmanuel Ogbah seem to be their only major losses, though they did gain Oliver Vernon in the trade with the New York Giants. So far I would say they have had the best off-season game plan and head coach Freddie Kitchens definitely seems to have a plan in mind.
Minnesota Vikings : B-
Pretty quiet in Minnesota this off-season thus far. DT Sheldon Richardson seems to be their biggest addition this free agency period. Though they have made key re-signings such as bringing back Anthony Barr after ALMOST signing with the New York Jets and giving Adam Theilen a four year extension. The biggest problem at hand still seems to be the offensive line and they are expected to use that first round pick on the best lineman available.
Tennessee Titans : B
A lot of really good signings coming from Tennessee ahead of the draft with DE Cameron Wake probably the biggest of all of them. After spending his whole career in Miami, Wake joins a Titans defense that seems to be getting their feet under them. S Kenny Vaccaro should also give the secondary some much needed protection from the deep passes after they struggled all of last year in pass coverage. Offensively WR Adam Humphries really broke out last year in Tampa Bay, and should give Mariota a nice slot WR as he enters the end of his rookie deal. If Mariota doesn't pan out though, they did trade for QB Ryan Tannehill early in the off-season. Expect him to provide competition to Mariota who just hasn't had that breakout season that Tennessee has been waiting for.
Pittsburgh Steelers : D
The firestorm has officially turned into a dumpster fire for the Pittsburgh Steelers. Le'veon Bell finally left after holding out all season in 2018. Then Antonio Brown forced himself out of Pittsburgh, though it wasn't on the first try. He was originally supposed to be traded to Buffalo, but Brown then refused to join and a few days later he was sent to the Raiders for only a third and a fifth round selection. Pennies on the dollar for what he is worth. They just have zero control of their locker room and I wouldn't be surprised if they aren't even close to being competing for the playoffs next year.
As far as additions go they haven't made anything big happen yet. WR Donte Moncrief, CB Steven Nelson and OLB Anthony Chickillo are their biggest signings. So they obviously are looking to the draft next week. They have plenty of needs to fill and could go plenty of ways with their picks.
Seattle Seahawks : C
Not much to report from Seattle. They franchise tagged DE Frank Clark. They retained pass rusher K.J. Wright and gave a one year deal to OLB Mycheal Kendricks from Philadelphia. They did indeed solve the issue of Russell Wilson's contract though. So they won't have the issue of dealing with that next season!
Baltimore Ravens : B-
The Ravens are coming off of their first AFC North title win since 2014 and they have added some fun additions this free agency. Signing Earl Thomas to join the secondary and giving RB Mark Ingram a three year deal should be a big help in this teams mission to become the top dogs in the AFC North. Though losing ILB CJ Mosley could hurt in the long run. With these additions though, they instantly look just as good and if not better than last season. It all depends on how QB Lamar Jackson does in his sophomore season in the NFL.
Houston Texans : C
Silence out of Houston. They have remained much in tact and just look to continue the build in the NFL Draft. Their biggest addition would have to be FS Tashaun Gipson and keeping OLB Jadaveon Clowney on the franchise tag, though he isn't expected to get a long term deal anytime soon. This could prove to be problematic in the near future. A trade definitely isn't out of the question as they could get some great value out of him, although no rumors have been made of a trade quite yet so we will have to wait and see. The offense remains to look stout with QB Deshaun Watson entering his third season and WR Deandre Hopkins still proving to be one of the best in the league.
Chicago Bears : B-
The Bears looked absolutely dominant last season and could have made some real noise in the post season if Cody Parkey didn't kick their playoff run off of the uprights. They haven't made any crazy additions to the team though. The biggest of them all being FS Haha Clinton-Dix from Green Bay and bringing in gadget player Cordarrelle Patterson who proved to be huge to the Patriots success last season. Though trading away Jordan Howard, they still have Tarik Cohen. So they will be looking to build the offense around him and the arm of Mitchell Trubisky who proved himself to be a solid starter last year. They don't have a first round pick thanks to the trade of Khalil Mack, which proved to be worth it as he was one of the most dominant defensive players in the NFL last season. So definitely a handicap and they'll have to figure out what to do come draft time and making the middle rounds count.
Philadelphia Eagles : B
The Eagles have made some quality moves this off-season. Resigning DE Brandon Graham and bringing in DT Malik Jackson should boost this d-line to even greater results as far as pass rush goes. All the while bringing back WR Desean Jackson to join Carson Wentz and newly acquired RB Jordan Howard. Philadelphia looks like early front runners for the NFC East with these additions and should be a fun team to watch next season as long as QB Carson Wentz can stay healthy.
Indianapolis Colts : C
The Colts were another quiet team during the free agency period, but they did sign alot of depth pieces such as WR Devin Funchess. They also added a big veteran rusher in Justin Houston from the Chiefs. He should provide immediate impact to the Colts pass rush. The draft should bring in more day one talent to a Colts team that really turned it around last season making it further than anybody had projected in previous seasons.
Dallas Cowboys : B+
Lots of quality moves for the 2018 NFC East champions during the free agency period. Adding WR Randall Cobb and DE Robert Quinn are very friendly and should bring positive results next season. Extending DE Demarcus Lawrence was at the top of their to do list and they hit the nail on the head getting him on a five year contract. The Cowboys should be a good team again next season and I expect them to be at the top of the NFC East once again.
Los Angeles Chargers : B-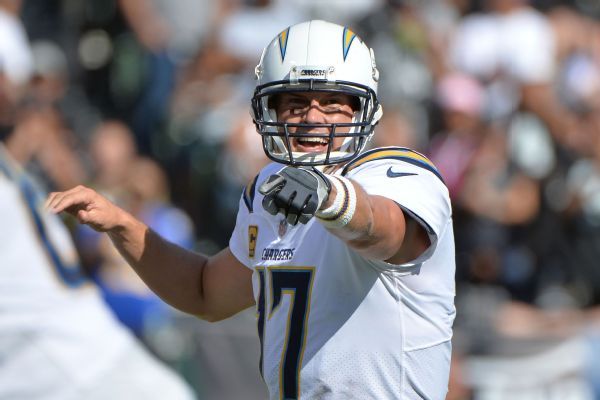 Nothing too crazy from the Chargers in free agency. They brought back MLB Denzel Perryman on a two year deal and brought in OLB Thomas Davis from the panthers adding a veteran presence. Offensively they added QB Tyrod Taylor on a two year deal to provide a great insurance plan if Rivers does get hit with an injury. Outside of that, not much to report which earns them a B-.
Kansas City Chiefs : C+
The Chiefs were a odd team to watch throughout the free agency period. Early on they released S Eric Berry after he just couldn't stay healthy last season, then they brought in Tyrann Mathieu from the Texans. Their pass rush will also suffer as Dee Ford and Justin Houston are now on different teams. To add salt to the wounds, WR Tyreek Hill is also dealing with off the field issues and might face suspension if the investigation turns out for the worst. This team should still be a top tier AFC contender next season, but they just didn't build upon their team as I thought they would have. So they get a C+ but they are still a great team.
New Orleans Saints : B
More good additions from the Saints this off-season. Bringing in Jared Cook from the Raiders gives Drew Brees another quality weapon in the passing attack. They also bolstered their defensive line with the additions of DT Malcolm Brown and Mario Edwards. However, the Saints are without their first round pick after dealing it to the Packers last year in the draft so they can select Marcus Davenport. They should be atop of the NFC South once again as long as QB Drew Brees doesn't have a hard regression in his age 40 season.
Los Angeles Rams : B-
Can't be too mad if your a Rams fan about this off-season. Nothing crazy was gained, but they retained all of their big players outside of DT Ndamukong Suh who still remains to be a free agent. They did bring in two veterans in OLB Clay Matthews and S Eric Weddle who may still have one more year in them to provide great help to a team that already looks extremely strong. If Gurley can come back just as strong and WR Cooper Kupp recovers fully from his ACL tear, the Rams should be found atop the NFC once again.
New England Patriots : C
The Patriots are usually pretty quiet during the free agency period. They'll wait awhile and see the scraps left and go from there. They didn't this year though. Their big move was trading for DE Michael Bennett for a seventh round draft selection. They lost some BIG names in DE Trey Flowers and TE Rob Gronkowski (retirement). The Pats are just in a less than ideal spot in a lot of positions, but we know them far too well to say that they've taken themselves out of competition. If we've learned anything about the Patriots, it's that Bill Belichick always has a plan and it usually works out for them. Tom Brady, entering his age 42 season and coming off of his sixth Super Bowl ring, hasn't slowed down a bit and if they can build him a supporting cast through the draft Patriots fans have no reason to get antsy come training camp.
Photo Source : SI.com
For advertising and sponsorship opportunities with The Game Changer Sports Network, please contact Jake at Jake.Jollymore@Gmail.com
Please follow and like us: